Blue Chip Technology provides quality precision services in machining, assembly, frabrication, jig and fixture design, and engineering prototypes. Blue Chip Technology is conveniently located close to Rt. 55 and Rt. 322 in Richwood, N.J. There is also easy access to and from Rts. 42, 95, 295, NJ and PA Turnpikes in just minutes.
Blue Chip Technology
267 Richwood Road
Richwoood, NJ 08074

Phone: 856-881-3133
Fax: 856-881-0233
E-mail: fwinters@bluechip-technology.com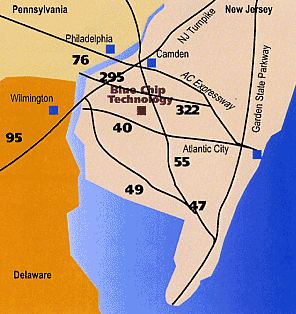 A convenient location! Contact us for directions!